Core Residence @ TRX
Spread across 70 acres, Tun Razak Exchange (TRX) is an extension of Kuala Lumpur's bustling Golden Triangle – the city's renowned commercial, shopping, and entertainment hub. Designed to seamlessly blend work and leisure, TRX presents an urban lifestyle with a vast lifestyle mall, renowned office buildings, modern residences, and more. The convenience-driven lifestyle within TRX redefines urban living, facilitated by multi-level vehicular flow and ground-level pedestrian connections.
As the inaugural residential venture within TRX, Core Residence @ TRX is dedicated to catering to the needs of contemporary urbanites, offering accessibility and facilities that match their modern lifestyle demands. The partnership between two influential construction and engineering giants in Malaysia and China, China Communications Construction Group (CCCG) and WCT Holdings Berhad, ensures the furnishings and quality of Core Residence @ TRX. Boasting 700 residential units, the project aims to establish itself as one of Malaysia's premier contemporary high-rise luxury living spaces upon its completion in 2023.
CCCG, a global leader in various sectors including real estate, boasts a project development area of nearly 30 million square meters worldwide. With two decades of presence in Malaysia, focusing on infrastructure construction such as the Penang Second Bridge and East Coast Rail Link, CCCG is listed on the stock exchanges of Hong Kong and Shanghai, managing projects across the globe, including Los Angeles, Indonesia, Africa, and Sri Lanka.
Characterized by naturally-lit and well-ventilated units that capture iconic views of Kuala Lumpur's cityscape, Core Residence @ TRX offers top-notch amenities. Positioned as a pioneering global living space for professionals and financial practitioners working in Kuala Lumpur's business district, the project aims to redefine urban living for this demographic.
Core Residence @ TRX offers an array of fully furnished unit types with sizes ranging from 624 to 1022 sq. ft. Emphasizing comfort, spaciousness, and quality, the developer focuses on details like the variable refrigerant flow (VRF) system for energy-efficient indoor climate control. The units exhibit an aesthetic appeal and the VRF system adjusts to needed levels, saving energy. The residences feature well-known brands such as Teka, Yale, and Grohe for product fittings to ensure premium quality. An open kitchen layout connects the kitchen, dining, and living areas seamlessly, creating a spacious feel. Below offers the unit types and their descriptions:
| Unit Types | Description |
| --- | --- |
| A1 (624 sq. ft.) | This is one of the smaller units with a master bedroom containing an attached bathroom. Ideal for individuals or couples, offering a minimalist layout. |
| A2 (688 sq. ft.) | Similar to A1, A2 features a master bedroom with a separate bathroom. Additionally, it has a study room, providing extra privacy for residents. |
| B1 (817 sq. ft.) | Featuring two bedrooms and two bathrooms, B1 is suited for small families. Its layout is nearly identical to B2, with subtle differences in size and kitchen arrangement. |
| B2 (839 sq. ft.) | Like B1, B2 has two bedrooms and two bathrooms, sharing a similar layout. Both B1 and B2 are suitable for compact families. |
| B3 (925 sq. ft.) | Designed with two bedrooms, two bathrooms, and a study room, B3 is a good choice for small families, distinguishing itself from B4 by its square layout. |
| B4 (1011 sq. ft.) | Similar to B3, B4 offers two bedrooms and two bathrooms, but lacks a study room. Its rectangular layout sets it apart from B3. |
| C1 (1022 sq. ft.) | The largest unit type, C1 provides three bedrooms and two bathrooms. Suited for small to medium-sized families valuing privacy and comfort. |
PROJECT DETAILS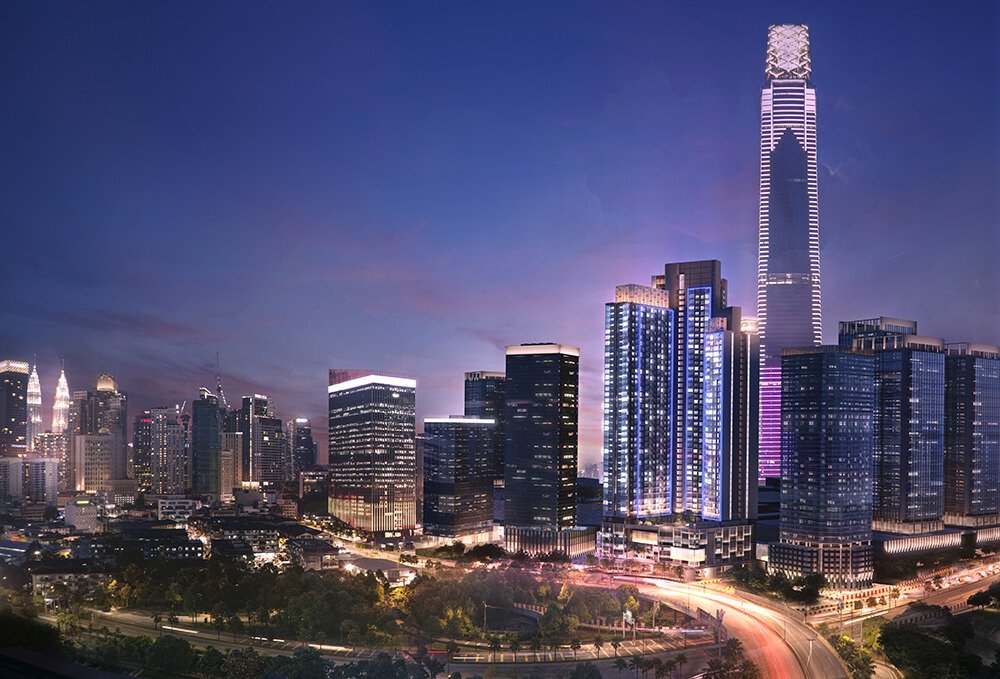 Address: Jalan Barat, Pudu, 55100 Kuala Lumpur
Property Type: Serviced Residences
Property Developer: CORE Precious Development Sdn Bhd (a joint-venture between China Communications Construction Group (CCCG) and WCT Holdings Berhad)
Land Title: Commercial
Number of Blocks: 3
Total Units: 700
Parking Bay Per Unit: N/A
Tenure: Freehold
Sales Gallery: Level 5-02 Menara Khuan Choo, 75 Jalan Raja Chulan, 50200 Kuala Lumpur
Year of Completion: 2023
Built-Up Area: 624 sq. ft. - 1,022 sq. ft.
Facilities:
Function hall

Reading room

Indoor playroom

Outdoor lounge

Recreational park

Gymnasium

Wading pool

Swimming pool

Pool deck
Launch Price: From RM 1,440,000 onwards
Launch Price Per Sq Ft: RM 2,200 psf (average selling price)
Maintenance Fee: RM 0.80 psf
LOCATION
Core Residence is positioned at the heart of Kuala Lumpur's vibrant Golden Triangle, encompassing the region from Jalan Pudu to Jalan Ampang and from Jalan Imbi to Jalan Tun Razak. This area is renowned as Kuala Lumpur's bustling commercial, entertainment, and shopping hub. Within this zone, you'll find notable landmarks like Bukit Bintang's shopping district, Jalan Raja Chulan's office towers, Jalan Sultan Ismail's luxury hotel strip, and the iconic KLCC, home to the Petronas Twin Towers, KLCC Convention Centre, and more.
In 2010, the Malaysian government unveiled plans for the nation's first international financial and business district, known as TRX, situated within this Golden Triangle. This ambitious RM 40 billion project is aimed at establishing Kuala Lumpur as a global financial hub and offers a solution to the country's lack of a dedicated financial district. Encompassing 70 acres, TRX is set to attract prominent global financial companies and generate numerous job opportunities, contributing to urban regeneration and economic growth.
TRX is designed to feature premium office buildings, advanced medical facilities, hotels, efficient transportation systems, commercial spaces, shopping centers, and upscale residential areas like Core Residence. This development alleviates the overcrowding experienced in Bukit Bintang and KLCC, offering residents access to diverse amenities and services.
Renowned corporations such as HSBC Bank Malaysia, Prudential Malaysia, Affin Bank, and China Communications Construction Co Ltd (CCCC) have chosen TRX as their headquarters. The Exchange 106, a monumental 106-story office building within TRX, has surpassed the Petronas Twin Towers in height, while The Exchange Mall, a colossal 2 million sq. ft. lifestyle mall, is a key feature offering retail, residential towers, and a luxury hotel.
Accessibility:
Jalan Tun Razak

Jalan Bukit Bintang

Jalan Sultan Ismail

Jalan Ampang – Jalan Pinang

Jalan Raja Chulan

Jalan Kampung Pandan

Maju Expressway (MEX)

Setiawangsa Pantai Expressway (SPE)

Tun Razak Exchange (TRX) MRT Station

Bukit Bintang MRT Station

Cochrane MRT Station
Education:
International School Kuala Lumpur

Sayfol International School

Taylor's International School Kuala Lumpur

Mutiara International Grammar School

EtonHouse International School

St. John's International School
Medical Care:
Prince Court Medical Centre

Gleneagles Kuala Lumpur

National Heart Institute

HSC Medical Center

Tung Shin Chinese Hospital

Kuala Lumpur Hospital
Shopping:
Pavilion Kuala Lumpur

Suria KLCC

Lot 10 Shopping Centre

Fahrenheit 88 Mall

Berjaya Times Square

Central Market

MyTown Shopping Centre
Recreation:
KLCC Park

Lake Gardens (Perdana Botanical Gardens)

Taman Tasik Titiwangsa

KL Forest Eco Park
ANALYSIS
The construction of Core Residence involves an investment of RM 1.4 billion, with an expected completion date set for 2023, marking TRX's inaugural residential project. Over time, properties within the KLCC region have historically witnessed an increase in value, a trajectory projected to persist due to the rapid advancements in the vicinity. As a constituent of the KLCC zone, TRX directly benefits from the ongoing development initiatives underway. An illustrative instance is the TRX MRT Station, where properties in close proximity are anticipated to be in high demand. The upcoming influx of commercial and residential projects in TRX is poised to redefine the area's landscape and stimulate the appreciation of property values surrounding the TRX MRT Station.
The TRX locale is predicted to yield an estimated gross development value of RM 40 million due to its promising potential for capital appreciation. All in all, its strategic central location, excellent connectivity, extensive amenities, and facilities render it an enviable residence within the vicinity. It serves as an ideal choice for individuals seeking to immerse themselves in the heart of various activities – be it the financial district, entertainment offerings, diverse dining options, nearby parks, global events, sports, or leisure pursuits.
Here's a quick look at residential properties in Kuala Lumpur:
| | | | | | |
| --- | --- | --- | --- | --- | --- |
| Project | Land Tenure | Unit Type | Completion | Built-up | Approximate Launch Price |
| Central Residence @ Sg Besi by Yuk Tung Group | Freehold | Apartment | 2015 | 565 sq ft - 876 sq ft | From RM 345,300 |
| Avara Seputeh by Unity Reality Sdn. Bhd. | Freehold | Multiple | 2020 | 667 sq ft - 1,216 sq ft | From RM 650,000 |
| St Mary Residences by E&O Property Development with Lion Group | Freehold | Condominium | 2012 | 1,131 sq ft - 6,769 sq ft | From RM 942,000 |
| Southbank Residence by UOA Group | Freehold | Service Residence | 2017 | 779 sq ft - 978 sq ft | From RM 566,800 |
SUMMARY
Core Residence @ TRX is the pioneering residential project in Kuala Lumpur's TRX, slated for completion in 2023 with an investment of RM 1.4 billion. Positioned within the KLCC area, it's poised to benefit from the region's property value appreciation trend. The TRX MRT Station and upcoming developments contribute to the rise in property values. Anticipated to have a gross development value of RM 40 million, Core Residence @ TRX boasts prime location, connectivity, amenities, and facilities, making it a coveted residence for those seeking a dynamic urban lifestyle. Ideal for being at the center of financial, entertainment, dining, and leisure activities in KL.
Related News: