Setia Alam
General Description
Setia Alam stands as an exemplary, award-winning integrated township nestled in Shah Alam, Selangor, renowned for its meticulous planning and eco-conscious design. It takes approximately 40 minutes to reach Kuala Lumpur city center from Setia Alam, while Kuala Lumpur International Airport (KLIA) is roughly an hour's drive away. Originally spanning over 4,000 acres as an oil palm estate, Setia Alam has transformed into SP Setia Group's flagship development. The highlight of this transformation is Setia Eco Park, which received global acclaim as the World's Best Master Plan Development in 2007. This township has established itself as a benchmark for quality homes, drawing homebuyers eager to embrace its address.
SP Setia Group has devised a master plan that accommodates diverse budgets with a range of property types, including budget-friendly apartments, condominiums, and gated residential developments. Notably, the developer has displayed proactive responsibility by undertaking free repairs of residents' walls when cracks appeared in a certain area. Their attention to detail and efficiency validate the numerous awards they've garnered.
Given its proximity to the Klang border, Setia Alam naturally attracts a substantial number of workers from that area. The accessibility of Setia Alam is facilitated by routes like NKVE–Setia Alam Link, Jalan Meru, Federal Highway, New North Klang Straits Bypass Expressway, and KESAS. Situated on the western border of Shah Alam, Setia Alam benefits from the conversion of industrial areas to commercial and residential zones, driving its population growth.
Being an integrated township, Setia Alam is equipped with an array of amenities and facilities that cater to the community's needs within close proximity.
Area Outlook
Famed for its award-winning developer and innovative concepts, Setia Alam is a meticulously planned Shah Alam township offering a serene and green lifestyle. Exploring its lush green spaces offers both inspiration and tranquility.
The vibrant Setia Alam township is home to popular attractions like Setia City Mall and Setia City Convention Centre. Setia City Mall has emerged as a favored hangout destination for Klang residents, often bustling with activity over the weekends. Situated adjacent to its older counterpart, Setia Ecopark, both developments are masterminded by SP Setia. Additionally, Setia Alam shares borders with established townships like Bandar Bukit Raja and Meru Town.
True to its identity as a "green township," Setia Alam is enveloped by expansive green spaces, interspersed with parks and water features. The community can enjoy a variety of recreational parks, including Wetland Park, Urban Park, Setia City Park, Town Park, and Western Park, each catering to diverse lifestyle preferences.
Properties within Setia Alam predominantly come under the freehold ownership arrangement. The administration of the township falls under the purview of the Shah Alam City Council (MBSA).
Connectivity & Accessibility
Major Highways:
New Klang Valley Expressway (NKVE): Provides direct access to Setia Alam and connects to major areas in the Klang Valley.
Damansasra-Shah Alam Expressway (DASH): Offers a convenient pathway from Petaling Jaya to the township.
Federal Highway: Connects Setia Alam to Kuala Lumpur and other key locations.
Shah Alam Expressway (KESAS): Provides access to Setia Alam from Subang Jaya.
Public Transportation:
RapidKL Bus Services: Several bus routes serve Setia Alam, providing connections to neighboring areas and public transportation hubs.
Klang KTM Station: Although not directly in Setia Alam, the Klang KTM Komuter Station is the nearest rail available from Setia Alam.
Nearby Amenities
Schools:
Within the township, there are a variety of local and international schools. Local schools encompass SK Setia Alam, SJKT Ladang North Hummock, SRJK (C) Pin Hwa 1, and SMK Setia Alam. Additionally, the area boasts international educational institutions like Tenby International School, Peninsula International School Australia, and Real Kids International School.
Recreation:
Various recreational parks cater to the residents' diverse needs, including Wetland Park, Urban Park, Setia City Park, Town Park, and Western Park, offering a range of activities aligned with their lifestyle preferences. Furthermore, inhabitants have the privilege of accessing the Setia Alam Clubhouse.
Healthcare:
Columbia Asia Klang is the closest private hospital, conveniently situated nearby. Other neighboring medical facilities include Hospital Shah Alam, MSU Medical Centre, KPJ Klang Specialist Hospital, and AVISENA Specialist Hospital, all conveniently located in the Setia Alam vicinity.
Commercial & Industrial Landmarks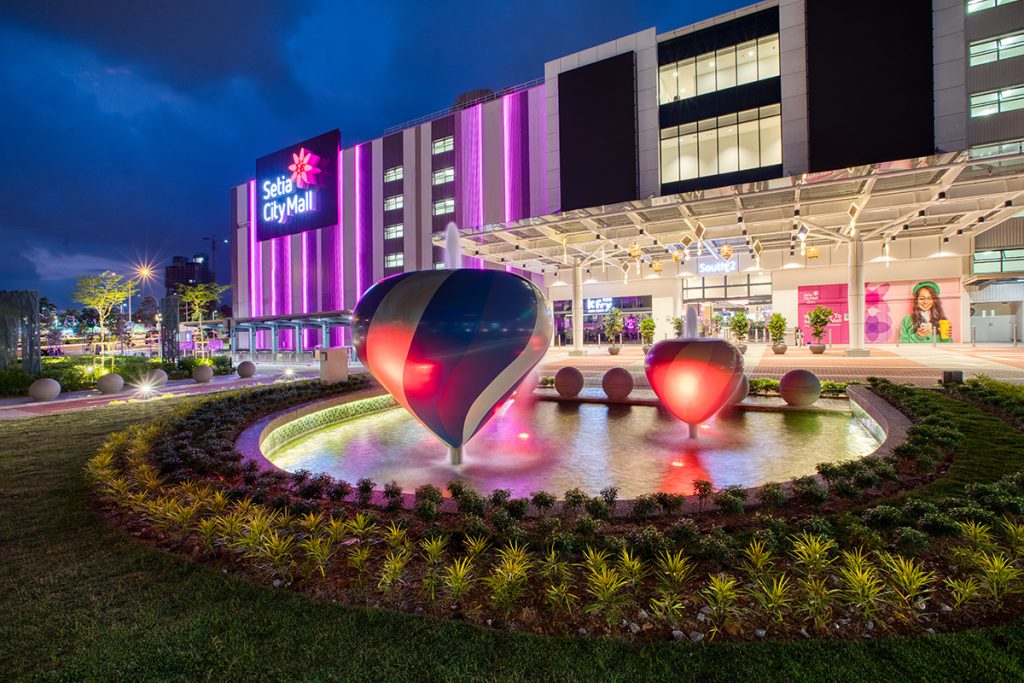 Here's a table showcasing some of the commercial landmarks in Setia Alam, including shopping malls and commercial areas.
| Name of Landmark | Type | Location | Description |
| --- | --- | --- | --- |
| Setia City Mall | Shopping Mall | Persiaran Setia Dagang | A prominent shopping destination with a wide range of retail, dining, and entertainment options. |
| Setia Avenue | Commercial Area | Seksyen U13 | A hub for commercial activities, featuring offices, shops, restaurants, and services. |
| Top Glove Tower | Corporate Office Building | Seksyen U13 | An office tower that consists Top Glove headquarter, a reputable glove manufacturing company. |
| Setia City Convention Centre | Convention Centre | Seksyen U13 | A multipurpose venue for meetings, conferences, and events in Setia Alam. |
Residential Developments
Here's a table showcasing some of the residential developments in the Setia Alam area:
| Development Name | Location | Developer Name | Description |
| --- | --- | --- | --- |
| Trefoil @ Setia City | Setia City | Bandar Setia Alam Sdn Bhd (S P Setia Berhad) | A modern SoFo development emphasizing the importance of personal space. |
| Eco Ardence | Persiaran Setia Alam | Eco World Development | A township with residential offerings, including high-rise dwellings, set amidst green landscapes. |
| Tuai Residence | Persiaran Setia Damai | Suntrack Development Sdn Bhd | This condominium project offers residential units with a focus on comfort and lifestyle. |
| Duta Villa 3 | Setia Alam | Bandar Setia Alam Sdn Bhd (S P Setia Berhad) | A collection of terraced homes designed to offer a luxurious living experience. |
| Sunsuria Forum - SoHo Suites | Seksyen U13 | Sunsuria Berhad | An integrated development with residential and commercial components for a vibrant lifestyle. |
| Suria Hills | Alam Nusantara | Sunsuria Berhad | A prestigious development comprising bungalow units with spacious offerings. |
| Yale, Edusentral | Jalan Setia Murni U13/51 | HCK Capital Group | A serviced residence that offers its residents a peace of mind and exclusive facilities. |
Related News: